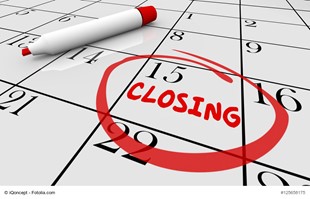 After you buy a house, it may be only a few weeks before your closing date arrives. At this point, you and the home seller will finalize your transaction. And if everything goes according to plan, you'll own a new home.
Getting to closing day, however, sometimes can be difficult. Lucky for you, we're here to help ensure you can enjoy a quick, seamless home closing.
Now, let's take a look at three steps to close on a home.
1. Complete Your Mortgage Application
A mortgage is a must-have for a homebuyer to close on a residence. Fortunately, it often can be simple to obtain a mortgage that matches or exceeds your expectations.
Consult with several local banks and credit unions. By doing so, you can learn about all of your mortgage options and select a mortgage that corresponds to your finances.
After you complete a mortgage application, a bank or credit union can provide you with mortgage options. Then, you can make an informed decision about which mortgage suits you perfectly.
2. Perform a Home Inspection and Appraisal
A home inspection is paramount, as this assessment will enable you to identify any underlying home problems and address them before closing day arrives.
During a home inspection, a property expert will assess your residence both inside and out. This expert also will provide an inspection report that details his or her findings.
Review the results of a home inspection report closely – you'll be glad you did. If you assess a home inspection report, you can review a home inspector's findings and determine whether you still want to purchase a house.
If you accept the inspection results and decide to move forward with a home purchase, an appraisal may follow.
Like a home inspection, an appraisal requires a property expert to visit your home. This expert will evaluate your home's interior and exterior, as well as comparable houses in your city or town. Following a home appraisal, you will receive a property valuation.
Oftentimes, a property valuation may match or exceed the price that you intend to pay for a house. If it does not, there may be instances in which you can still walk away from a home sale or ask the seller to lower a house's asking price.
3. Buy Home Insurance
Home insurance safeguards your residence and personal belongings against loss, damage or destruction. As such, it is essential to purchase home insurance before you close on a house. Because with home insurance in place, you'll be good to go to protect your house and personal belongings against myriad disasters.
The closing process can be long and complicated. But if you work with a real estate agent, you can receive plenty of support leading up to closing day. In fact, this housing market professional is happy to provide tips to ensure you can streamline the closing process.
Get ready for closing day – follow the aforementioned steps, and you can speed up the process of acquiring your dream house.