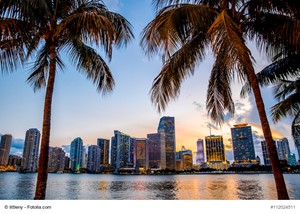 Ready to acquire a luxury home in Florida? Ultimately, there's a lot to like about the luxury residences in the Sunshine State.
From luxury houses that are located next to stunning beaches to deluxe residences that are just minutes from Disney World, Sea World and other family-friendly attractions, you should have no trouble finding a top-notch luxury home in the Sunshine State.
In fact, superb luxury homes are available in many Florida cities, such as:
1. Miami
A top vacation destination, Miami is home to some of the world's best beaches. It even boasts a vibrant Art Deco district, along with a bustling nightlife scene.
Luxury homebuyers are sure to enjoy deep-sea fishing, golfing and other relaxing activities in Miami too. Or, if you prefer to shop 'til you drop, you can always plan a trip to any of the family-owned shops in Miami's Coconut Grove district.
2. Orlando
Although Orlando may be best-known for Disney World, the city has much more to offer outside of its globally recognized amusement park.
For luxury homebuyers who want to kayak as much as possible, Orlando boasts more than 100 lakes. Also, if you ever want to take post-secondary classes, Orlando offers 35 post-secondary institutions where you can advance your education.
3. Fort Lauderdale
Luxury homebuyers who want to enjoy stellar beaches, arts, culture and shopping should check out the first-rate residences available in Fort Lauderdale.
In Fort Lauderdale, you can reap the benefits of unprecedented shopping experiences on Los Olas Boulevard. In addition, Fort Lauderdale provides plenty of terrific biking and hiking trails, ensuring that you should can stay in shape and enjoy the beautiful Florida weather year-round.
4. Tampa
Can't get enough live music? Purchase a luxury residence in Tampa, and you can celebrate live music festivals just about every weekend.
Tampa features a large selection of music festivals throughout the year, including the Sunset Music Festival and Tampapalooza. Plus, the city offers a vast array of restaurants – everything from farm-to-table restaurants to international gastropubs – to ensure that you can treat yourself to delectable cuisine before or after a local music festival.
5. Key West
Key West is a beach lover's paradise, along with a popular cruise destination stop. It also represents Florida's southernmost point.
Of course, no discussion of Key West would be complete without mentioning the city's conch-style houses. These residences usually are vibrant and awe-inspiring and are likely to make a long-lasting impression on any luxury homebuyer.
Florida represents a state unlike any other, and luxury homebuyers who pursue residences in the Sunshine State will find many excellent options at their disposal. Meanwhile, if you need assistance during your Florida luxury home search, you may want to consult with a real estate agent as well.
A real estate agent understands exactly what it takes to buy a luxury house in any Florida city, at any time. And if you reach out to a real estate agent today, you can receive the expert support that you need to speed up the luxury homebuying process.